Participation is free and no prior experience or knowledge is required
The Coral Universidade de São Paulo – CORALUSP (University of São Paulo Choir) is now open for registration for the second half of 2019.
Registration is free of charge and for anyone interested in participating in musical activities and developing as a singer, as long as they are over 18 years old. The activities are university extension actions, open to the entire population, including those without ties to USP.
To register, simply access the link Faça parte (Be a part of) on the website www.coralusp.prceu.usp.br. The deadline for registration is August 31st.
Founded in 1967, CORALUSP, organ of the Office of the Provost for Culture and Extension, is comprised of fourteen groups and three choir workshops, located in the neighborhoods of Butantã (University City), Downtown (Largo São Francisco Law School), Bela Vista (Cultural Preservation Center – Casa de Dona Yayá – CPC-USP) and Lapa (Lapa Regional), under the direction of seven conductors, gathering approximately 560 singers.
Registration is now open for twelve out of fourteen groups: 12 em Ponto Group  (Conductor: Eduardo Fernandes), XI de Agosto Group (Conductor: Eduardo Fernandes), Jupará Group (Conductor: Alberto Cunha), Dona Yayá Group (Conductor: Mauro Aulicino), LAPA Group (conductor: Mauro Aulicino), Sul Fiato Group (conductor: Paula Christina), Todo Canto Group (conductor: Paula Christina), Azul Dia Group (conductor: André Juarez), Azul Noite Group (Conductor: André Juarez), Grupo Iniciante (Beginners Group)  (Conductor: Tiago Pinheiro), Grupo Intermediário (Intermediate Group) (Conductor: Tiago Pinheiro), Grupo Avançado (Advanced Group) (Conductor: Tiago Pinheiro).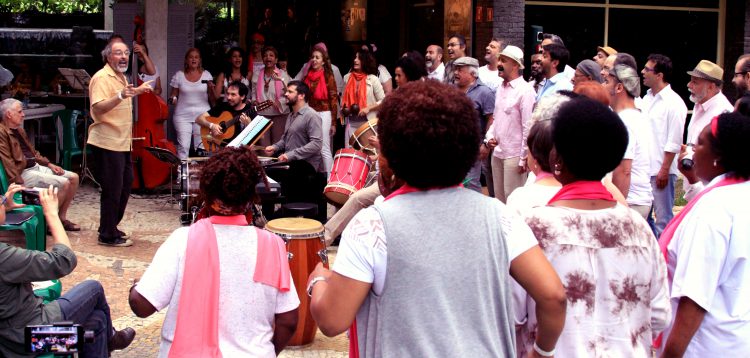 Lapa Group Concert at the Maria Luisa and Oscar Americano Foundation. Photo: João Paulo Romão.
Each group works on one or several musical styles in their repertoire. Rock, Brazilian popular music, black music, classical music, jazz, and soul are some of the styles chosen. Interested parties can check the current repertoire, days, times and rehearsal locations of each group by accessing the Groups link on the CORALUSP website prior to registering.
In addition to the choral groups, CORALUSP provides free vocal coaching and develops an educational program organized by the vocal technique and musical structuring teams, to stimulate in the choralists the interest in the knowledge of the music, the theoretical aspects and also techniques for vocal enhancement and preservation.
Holder of five APCA awards – Associação Paulista dos Críticos de Arte (Paulista Association of Art Critics) – and a Prêmio Colar Guilherme de Almeida (Guilherme de Almeida Necklace Award), from the São Paulo City Council, CORALUSP presents itself to varied audiences in the country and abroad and has been present in Europe, Africa, USA, and Argentina.
Service:

Registration open for new CORALUSP members
When | from July 1st to August 31st
How | Access the website coralusp.prceu.usp.br and click on "Faça parte"
How much | Free
More information | coralusp@usp.br or (11) 3091 3930