Created in 1990, the Programa USP e as Profissões aims to provide assistance to students so they can be oriented, with the help of their families and teachers, in the important task of choosing a career. Thus, the program offers to the students several opportunities to access the necessary information to make a more conscious decision about their areas of study among those existing at USP, also allowing a reduction in the dropout rate at the University.
In addition to the regularly updated brochure, the program includes the Feiras de Profissões and a calendar of visits for high school and pre-college preparatory course students to the seven campuses of the University of São Paulo.
The USP e as Profissões brochure presents USP and its professionalization methods from a comprehensive point of view, providing an overview of the University. At the same time, it wishes to help the students, when becoming undergraduates, in developing an integrative relationship with the university community and society, taking advantage of the many academic, cultural and social activities that USP offers. Additionally, it indicates the teaching units, the offered courses and the student supporting actions in each of the seven campuses, as well as their integration bodies (specialized institutes and museums).
Join! Click here to see the dates of the visits. Sign up!
13ª Feira USP e as Profissões – Capital – Parque Cientec – Click here.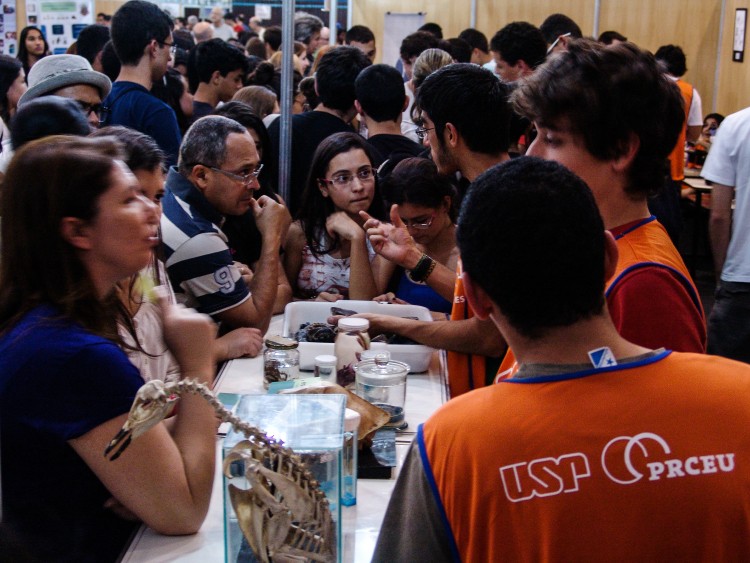 7ª Feira de Profissões USP – CEPEUSP
The Feiras de Profissões are promoted annually and attract a large audience both in the capital and in the countryside. The Feira de Profissões da USP (FEPUSP), which has been held since 2001, is an itinerant event that presents the undergraduate courses from USP campuses in Bauru, Lorena, Piracicaba, Pirssununga, São Carlos and Ribeirão Preto to students from the state's countryside. As for the Feira de Profissões from the campus in the capital, held in São Paulo since 2006, it gathers all of the USP Teaching Units, as well as its museums and organs.
In the monitored visits, teachers and students of the University expose their views on the courses and teaching units to which they belong, showing the different activities developed in them, such as extension courses, provision of services to the community and promotion of cultural, scientific, technological and sporting events.
The program is also aimed at informing educators about all of the cultural and extension activities offered by the University, bringing them closer to its rich variety of museums, organizations and institutes. Here, a rich diversity of cultural programs is suggested, adding significantly to their formation, so a new space was created for educators in the Feira de Profissões in São Paulo, which consists of stands of the University museums and bodies, where they may obtain information about the content of their schedules, agendas and a relaxed chat with some of professionals who work there.
Por Pró-Reitoria de Cultura e Extensão Universitária