The Orquestra Sinfônica da Universidade de São Paulo (University of São Paulo Symphonic Orchestra) – OSUSP, founded in 1975, is an organ of the PRCEU whose first conductor was the composer Camargo Guarnieri (1907-1993).
In 1996, they released a CD and in 2000, during a tour around Germany, OSUSP was warmly applauded. In 2003, they released a new CD with compositions especially chosen for its core of strings. In the same year, the Concurso Nacional de Composição Camargo Guarnieri (composition contest) was created. In 2005, a CD was released to celebrate OSUSP's 30th anniversary, and in 2006 the orchestra received the Carlos Gomes Award for "Best Orchestra of the Year".
In 2008, in an unprecedented concert, OSUSP performed the complete cycle of Bachianas Brasileiras, by Villa-Lobos. From 2009 to 2011, OSUSP offered concerts to the public that included the participation of soloists winners of the Queen Elisabeth International Music Competition of Belgium, guitarist Pepe Romero, tenor José Carreras, and violinist Schlomo Mintz.
In 2010, OSUSP opened the Temporada Lírica do Theatro de São Pedro with the opera Tosca by Puccini. In 2013, they launched a collection with five CDs recorded live in concert from its season at the Sala São Paulo. Since 2002 the Orchestra promotes the Projeto Academia, aimed at the refinement of students and professional musicians.
To access Orquestra Sinfônica da USP, Para acessar Orquestra Sinfônica da USP clique aqui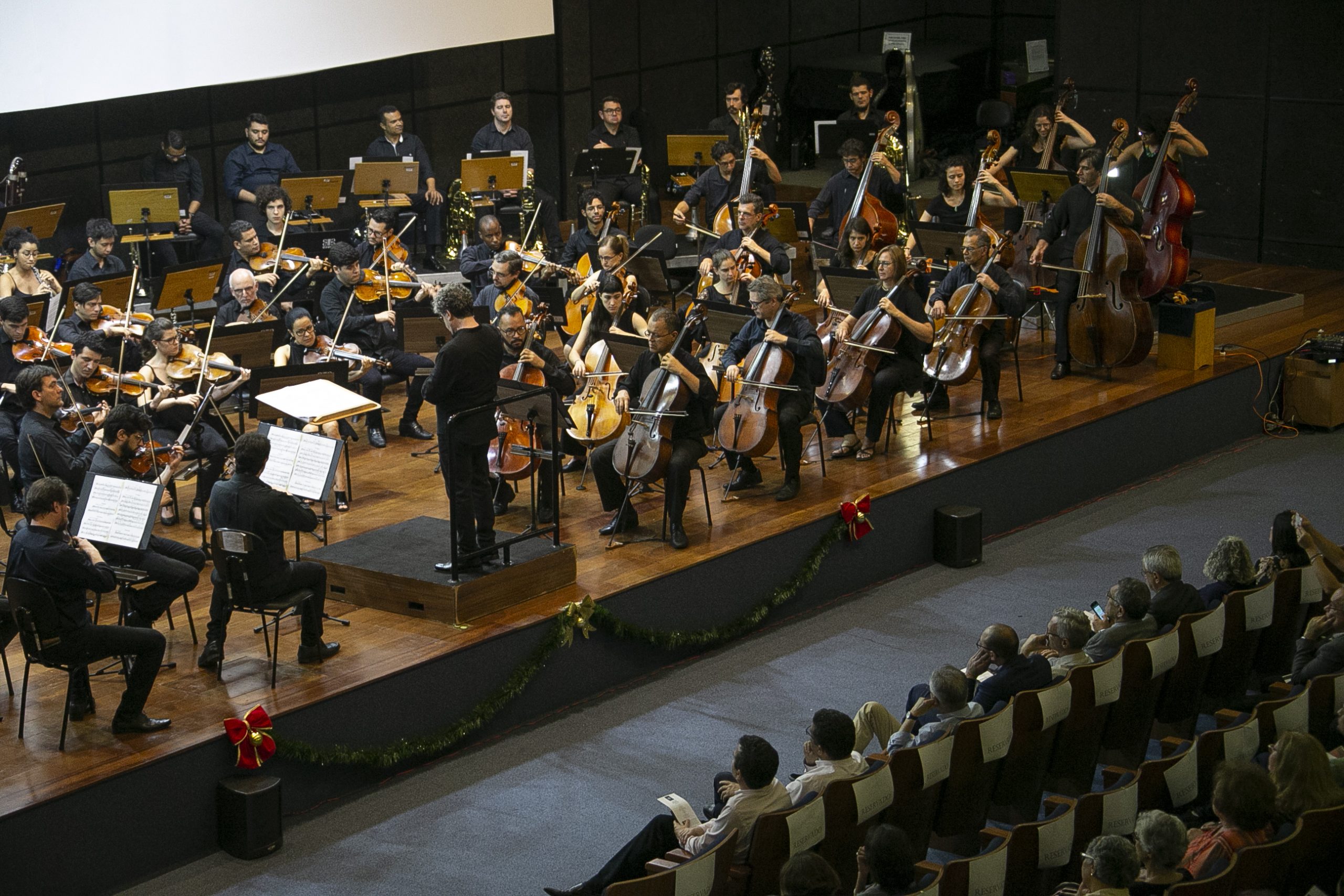 OSUSP seeks to maintain the high level of excellence that defined its path in the national music scene, actively pursuing its mission of stimulating education and citizenship in a broad sense, featuring the repertoire of Brazilian and South American composers in the orchestra's programming, as well as performing educational concerts in the main concert halls and at the university's campuses, to promote cultural enhancement through music and enable aesthetic stimulation, audience formation and interaction between the knowledge produced in the university and society.
Since its foundation, initially, as a string orchestra, OSUSP has sought to form a solid artistic base, including regular performances, with the participation of guest soloists and conductors – some of them considered to be amongst the most distinguished musicians in the national scene – and it has strengthened its set of tenured orchestra musicians – listed among the best musicians on the national scene – occasionally hiring professional musicians, young musicians and students on the rise, to complete its framework and execute the symphonic repertoire aimed at large orchestral formations.
OSUSP endeavors to encourage the love of music, to pass on the legacy of great universal masters, to present new proposals and styles, and to reach the community inside and outside the walls of the University. OSUSP captivates with its art and shows that cultural heritage and musical creation and innovation have been the principles that make the orchestra a vital element for connecting the academy and society.
Translated by: Lara Yoshime Shizuko Fukushima