The Coral Universidade de São Paulo (Coralusp) – Choir of the University of São Paulo is a choir created in 1967 that was initially called "Coral Universitário Poli-Enfermagem", as it was composed by students from the Escola Politécnica and Escola de Enfermagem, but it soon opened up to the university community and the community in general, being incorporated to the Reitoria da Universidade. In the 1970's it was linked to the Coordenadoria de Atividades Culturais, when it started to form new choral groups inside and outside the USP/Butantã campus.
The Coralusp is now open to the USP community and society in general, and it is composed of 12 groups, and 03 choral workshops, based in the University City; at the Faculdade de Direito do Largo São Francisco; at Casa Dona Yaya (Centro de Preservação Cultural); and at Tendal da Lapa, under the artistic conduction of 7 choir directors, bringing together about 560 singers.
To improve the performance of the singers, the Coralusp offers all of them an educational orientation program in technical-vocal and musical structure. Its varied collection of choral works – mostly composed of Brazilian popular music arrangements – is available for consultation.
To access Coral Universidade de São Paulo, click here.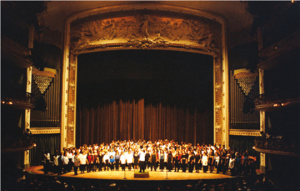 Since its creation, the choir has developed a unique style, bringing the erudite and the popular closer together and combining the most diverse musical genres in its repertoire. It performs to diverse audiences, in Brazil and abroad. It has already been in Europe, Africa, the US, and Argentina, and it is the holder of five awards of the APCA – Associação Paulista de Críticos de Artes.
From 1989 to the present it is constituted as one of the various organs of the PRCEU.