The Biblioteca Brasiliana Guita e José Mindlin (BBM) is a PRCEU organ that was created in January 2005 and its building – the Complexo Brasiliana USP, which also comprehends the Instituto de Estudos Brasileiros (IEB), Livraria da Edusp and Auditório István Jancsó – was opened in March 2013. It holds the brasiliana collection gathered over 80 years by the bibliophile José Mindlin, which was donated to the University of São Paulo by himself and his wife Guita and consolidated by their children.
With its expressive set of books and manuscripts, the BBM is considered the most important collection of its kind formed by a private individual. There are approximately 30,000 titles: works of Brazilian literature, traveler's accounts, historical and literary manuscripts (originals and typographical copies), periodicals, scientific books, textbooks, iconography (prints and illustrated albums), art books and artists' books (illustrations). Part of the collection belonged to the bibliophile Rubens Borba de Moraes and was incorporated into the collection to which it was bequeathed. This library's notorious brasiliana became well-known all around the country and abroad as a unique collection, the work of a lifetime of dedication to Brazilian culture and its manifestations.
To access Biblioteca Brasiliana Guita e José Mindlin, click here.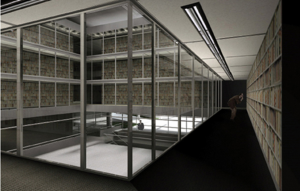 The collection of Biblioteca Brasiliana Guita e José Mindlin integrates the Banco de Dados Bibliográficos da USP (Dedalus) and the Portal de Busca Integrado do SIBi. Users who wish to have access to any item of the collection can consult the Sala de Consulta Rubens Borba de Moraes (Rubens Borba de Moraes Consulting Room), to which all the information is given in the BBM website (www.bbm.usp.br). There is also a Digital Collection – the result of the work done by the Laboratório de Digitalização da Biblioteca (Library's Digitalization Lab) – also available on the  site as mentioned above, where the user can search, view and download over 3000 titles from the collection, so that it remains available for the community in a democratic and universal way.
The BBM also houses the Laboratório de Conservação Preventiva Guita Mindlin (Guita Mindlin Preventive Conservation Laboratory) – LAGUIM, responsible for continuing the critical book conservation and preservation work by Guita Mindlin. It is also equipped with rooms for musical performances, events, and temporary exhibitions.