Traditional event gets a completely free digital version, with live streams, virtual booths, exclusive videos, and information on majors, University admission, and policies to address school dropout and increase completion
Por Michel Sitnik e Elcio Silva
19/08/2020 9h05
Over the last 19 years, one of USP's biggest and most traditional events, USP's Majors Fair, has been marked by intense participation of young people searching for their professional future. With each edition, the public has contact with professors and researchers, in addition to undergraduates and graduates, making it possible to get to know majors and careers up close, answer questions, and broaden horizons. Cultural activities, exhibitions of collections, vocational guidance, and information on university admission and school dropout and college completion policies are available.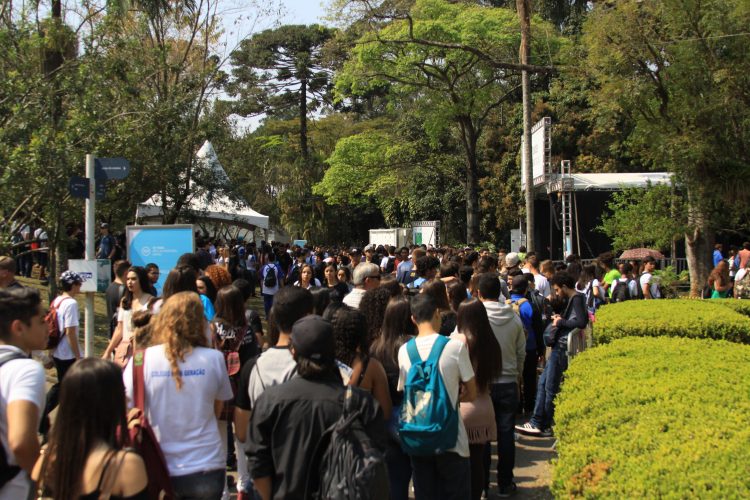 The last editions of the USP Majors Fair in the capital were held at USP's Science and Technology Park (CienTec). 
In 2019, more than 100 thousand young people participated in the two annual editions of the event – one in the capital and the other on one of the campuses in the state's interior – in action to democratize public education and reduce school dropout.
Due to the coronavirus spread, USP was faced with the challenge of preparing an online event with the same content. Because it is not an in-person event anymore, the Majors Fair will take place in a single edition, covering all USP's campuses.
On September 3 and 4, all teaching and research units, museums and institutes will be part of a dynamic and interactive program. There will be live streams, chats, exclusive videos, and cultural content, always offering the public information and activities prepared by the teams from its 142 majors, on eight campuses, and museums and cultural bodies.
Participation in the event is entirely free and does not require prior registration, access uspprofissoes.usp.br
For Professor Maria Aparecida de Andrade Moreira Machado, Provost for Culture and Extension at USP, this is an opportunity to expand the scope of the Fair and further democratize its contents: "Based on the huge demand for the past in-person events, we hope that the digital edition will enable a much larger audience to access our event since the costs and logistical difficulties of travel are eliminated. Going virtual allows us to dialogue with students from all over Brazil, and even from abroad, which is extremely important for a public, free and excellent university like USP", she says.
The Provost also highlights the team and teaching units' work to ensure the quality and dynamism of the Fair. "It is not just a simple website with texts and videos," he explains. "All the content is being set up specifically for the event, with many hours of live streams, interactions, videos, and activities produced exclusively for this edition."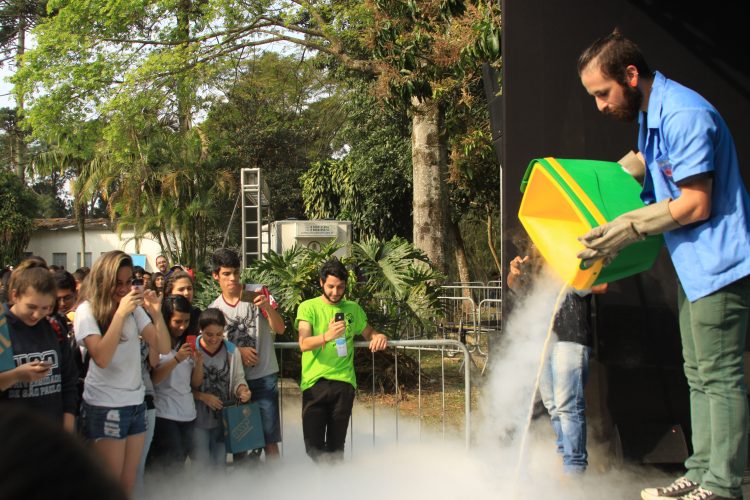 Physics Show: created over 25 years ago.
"The backstage of Marine Sciences: biological curiosities and experiments"; "Art in the preparation of medicines: the role of compounding pharmacy and nanotechnology"; "Energy, climate change and management"; "Mathematical experiments"; and "The career of the internationalist" are some of the dozens of lectures that students will be able to check out at USP Majors Fair. The complete program of all areas will be available on the website from September 3rd.
Cultural activities are also included. Participants will be able to take a virtual tour of the CienTec Park, including a planetarium and a nature trail. There will be Vocal Preparation with Coralusp (University of São Paulo Choir) and an exhibition program at the Ipiranga Museum. Plus music chat rooms with Osusp (University of São Paulo Symphony Orchestra), among other attractions.
Among the most sought after attractions in the previous editions, the "Physics Show" and the USP's Institute of Psychology (IP) Vocational Guidance will also have a digital edition. The first is responsible for hosting, for over 25 years, DIY and ludic experiments for students. The latter, Vocational Guidance, will host a virtual booth to assist young people with career choices.
Service
2020 USP Majors Fair – Digital Edition
When | September 3 and 4, 2020 (Thursday and Friday) from 10 am to 4 pm.
How much | free of charge, no prior registration required
Address | uspprofissoes.usp.br
Contact for general information and questions | uspprofi@usp.br